This weekend was the third and last long weekend of the month and it gave us a nice little preview of the summer we hope will stick around for a bit. I can now finally reveal that I'd been looking forward to this weekend for, oh, the past two-and-a-half months, as I was secretly planning a surprise baby shower for my friend, Kerstin. It's been SO hard not mentioning anything about it both on the blog and to her in person. What a relief to finally be able to share it now!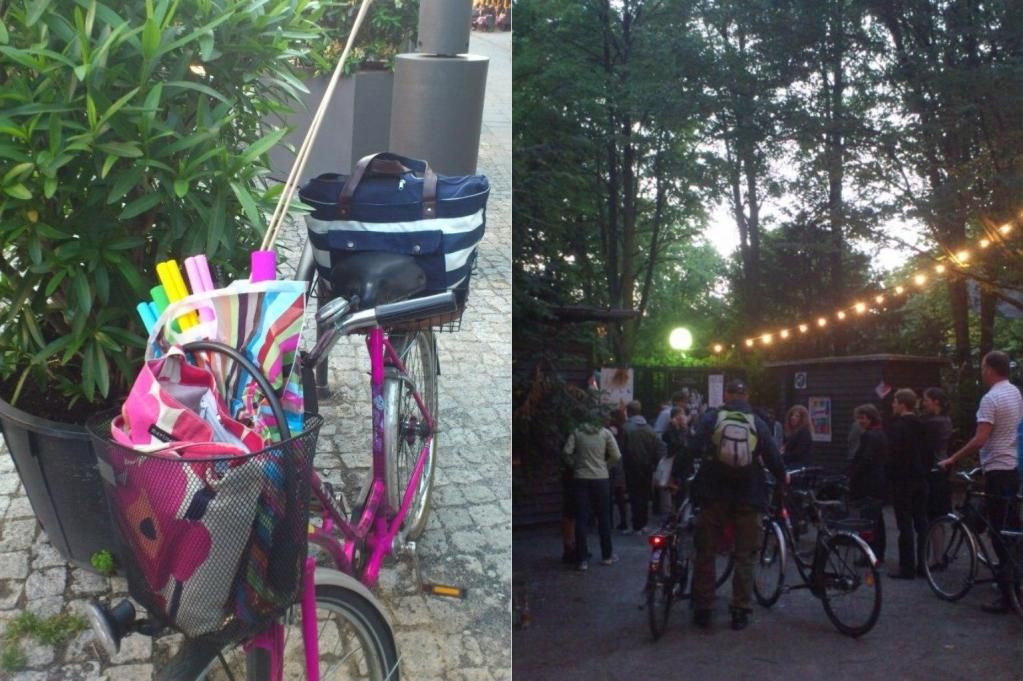 Picking up some last minute baby shower supplies | The line for bike parking at the theatre
After a final trip to
Idee
(my third in two weeks) for last-minute supplies, we started the weekend by going to the
Freiluftkino in Neukölln
(Nat's and my old hood) on Friday night to see The Artist with our friends Sara and Christoph. (It was so good! I can't believe I waited this long to see it...and a great movie for outdoors, since you don't have to pay attention to the dialog. :)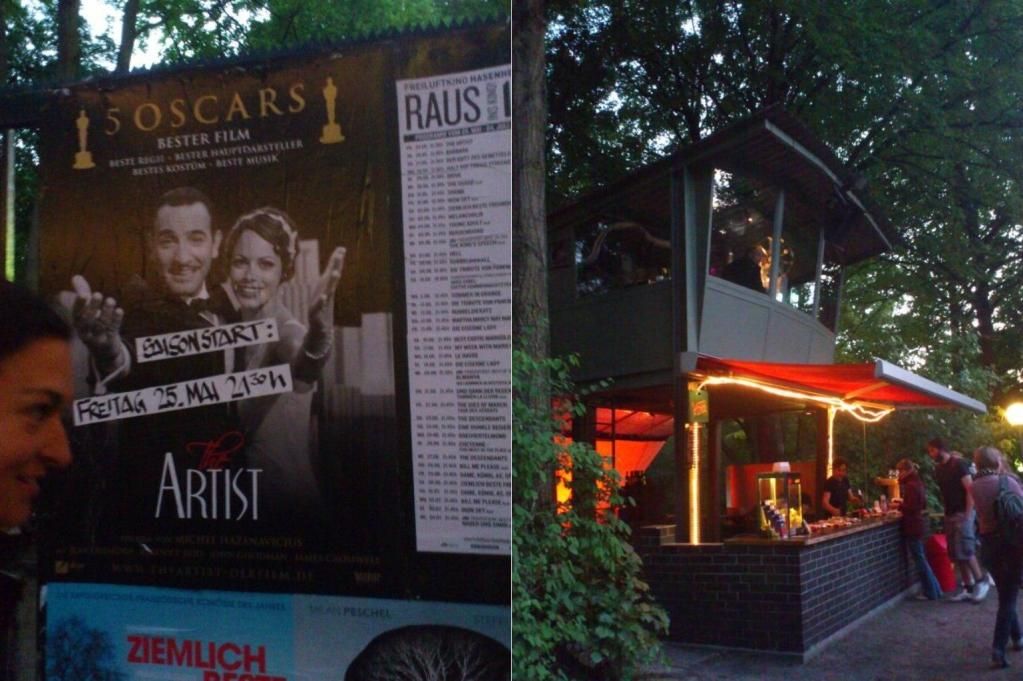 Our entire Saturday was spent getting the apartment party ready. I finalized the lanterns from hell (I love them, I do, but they take about a million hours to make) while Micha did a couple grocery trips and even did a fantastic job of picking out flowers based on my vague instructions of, "I just need different shades of pink!"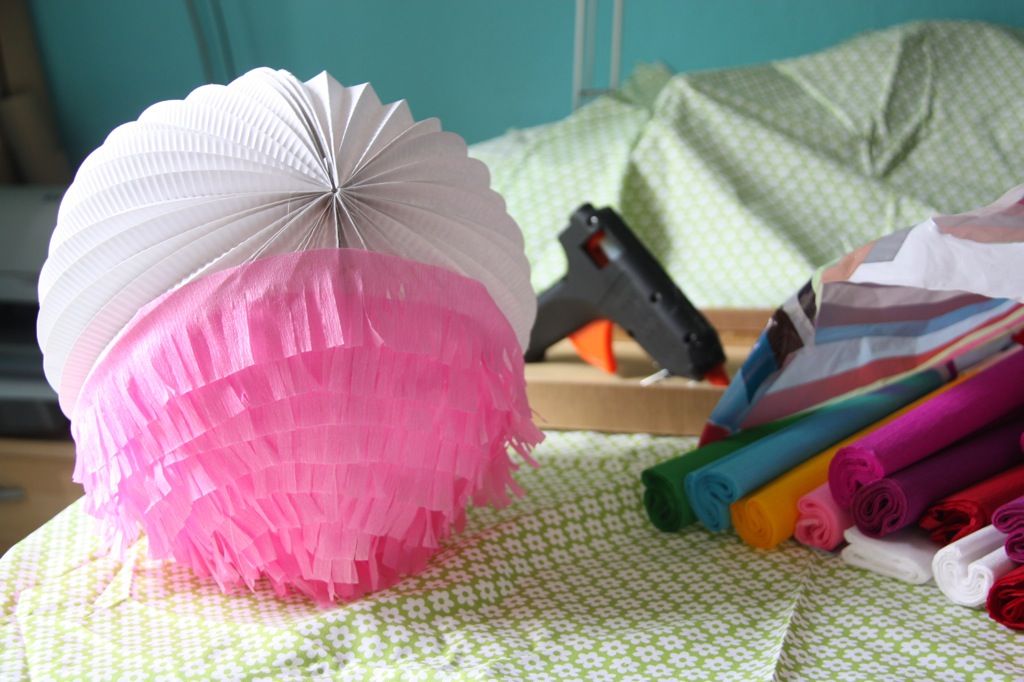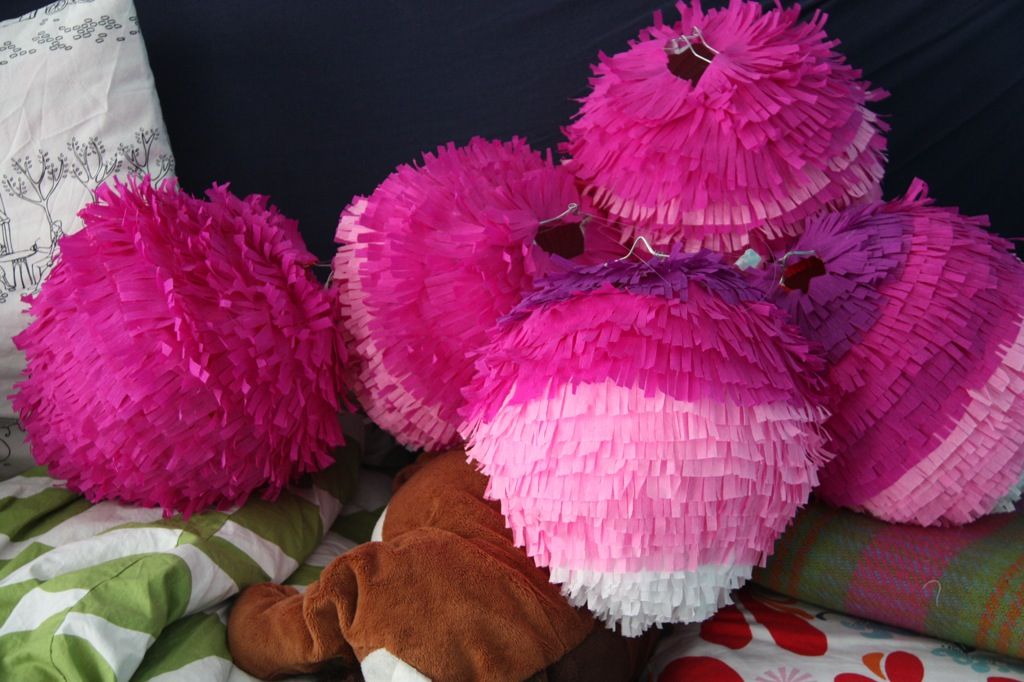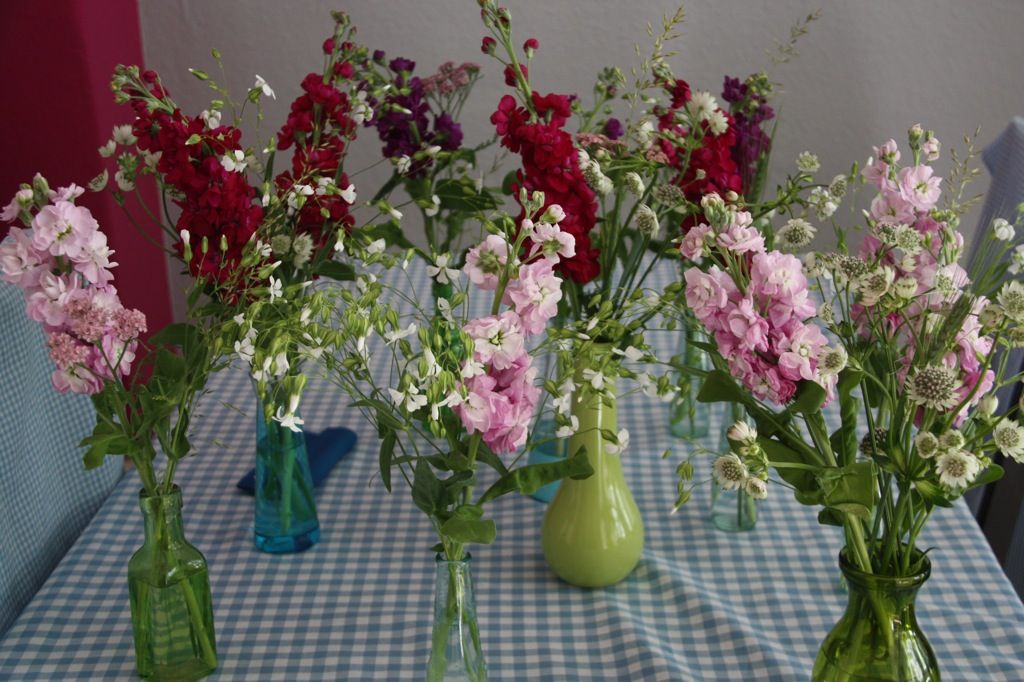 Didn't he do a great job of picking these out? He's a keeper.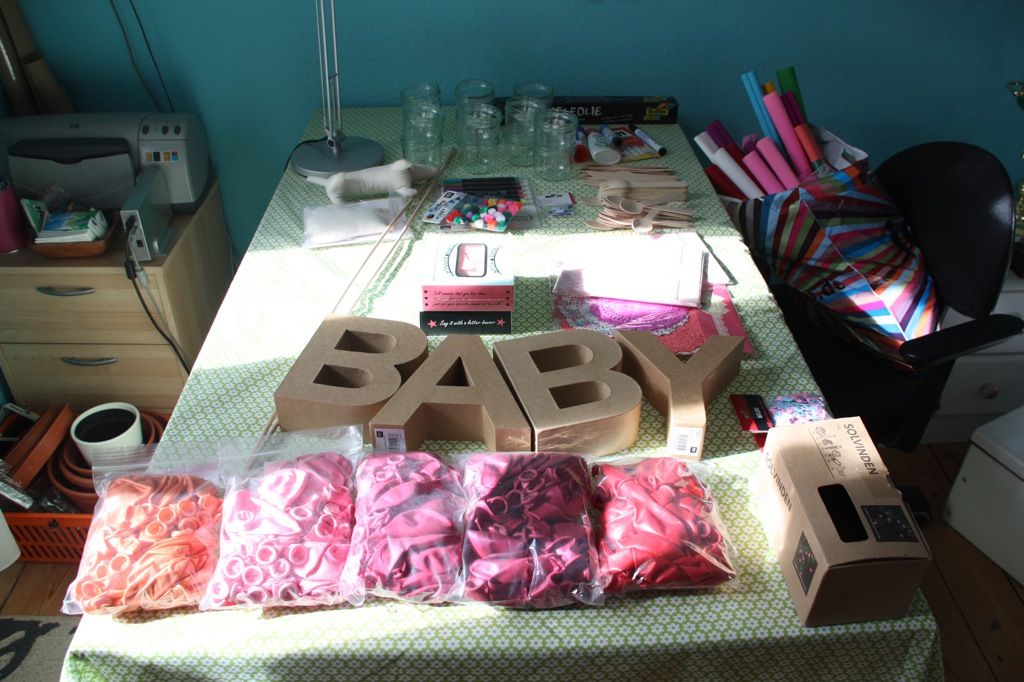 Balloons still to be blown up, letters to be modge-podged, and banners to be made
Luckily, in the evening, we took a forced break from all that hard work to meet Micha's momma and brother for dinner on a boat! It's funny,
this boat restaurant
is literally in the exact place where the Berlin Triathlon starts every year - right at the transition zone - and we've never even noticed it before. Man, were we missing out. The view was fantastic and the food was even better! Lesson learned.
Instead of heading out to a Eurovision party as planned, we spent the rest of the evening in doing, of course, more party prep. And adding our stabilizing sticks to the tomato plants. I'm getting better at not waiting until the last minute to do everything but I'm still not quite there yet... So we watched the
Eurovision Song Contest
at home (it was somewhat disappointing this year, I found) with beers and plenty of balloons to keep us company.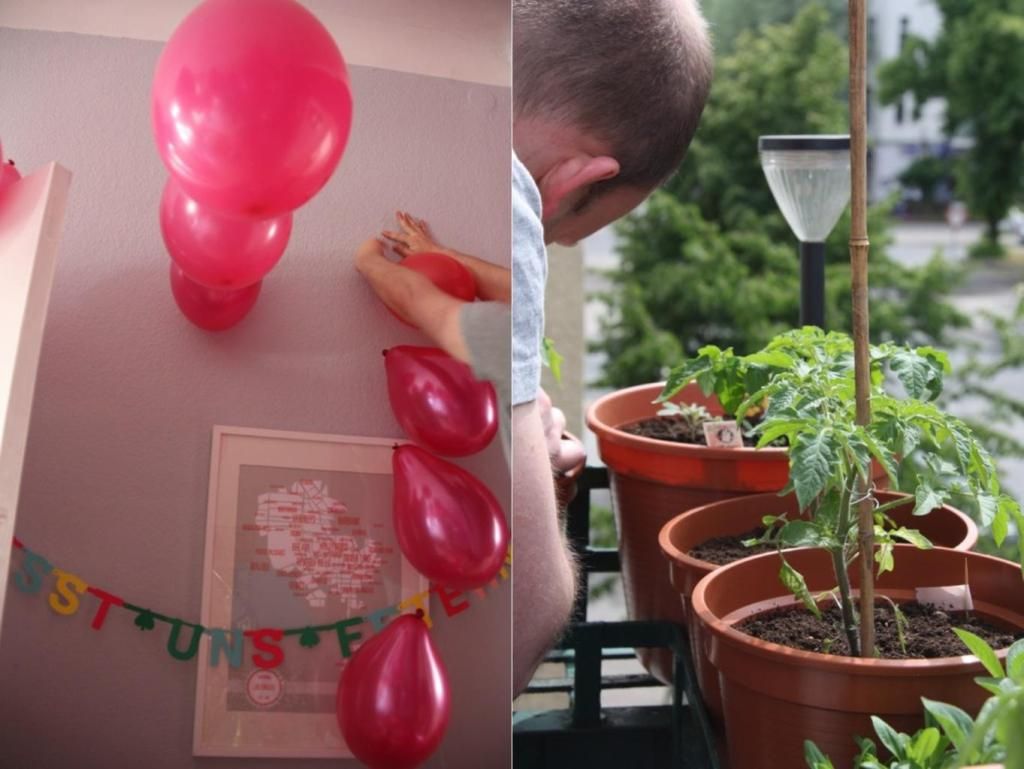 Balloon hanging | Tomato stabilizing
By the way, we blew up close to 100 balloons that night and a word to the wise: it is not for the faint of heart. You get dizzy mighty quickly blowing up that many balloons in such a short time span. Hanging them up was quite entertaining, too, as we didn't have our ladder around (it was at Micha's office), so we kind of had to wing it. Half the time, I ended up perched precariously on some piece of furniture while Micha pushed on my back to prevent me from toppling backwards. From now on, feel free to refer to us as the balloon-blowing-up-and-hanging-up-professionals. (I smell a career change...)
On Sunday, the long-awaited fun finally began! All the girls arrived early to help finish the food and drink prep and to jump out and surprise Kerstin when she arrived. It was perfect. From start to finish. I have so much more to say about this shower in a separate post, but here's a little sneak peek.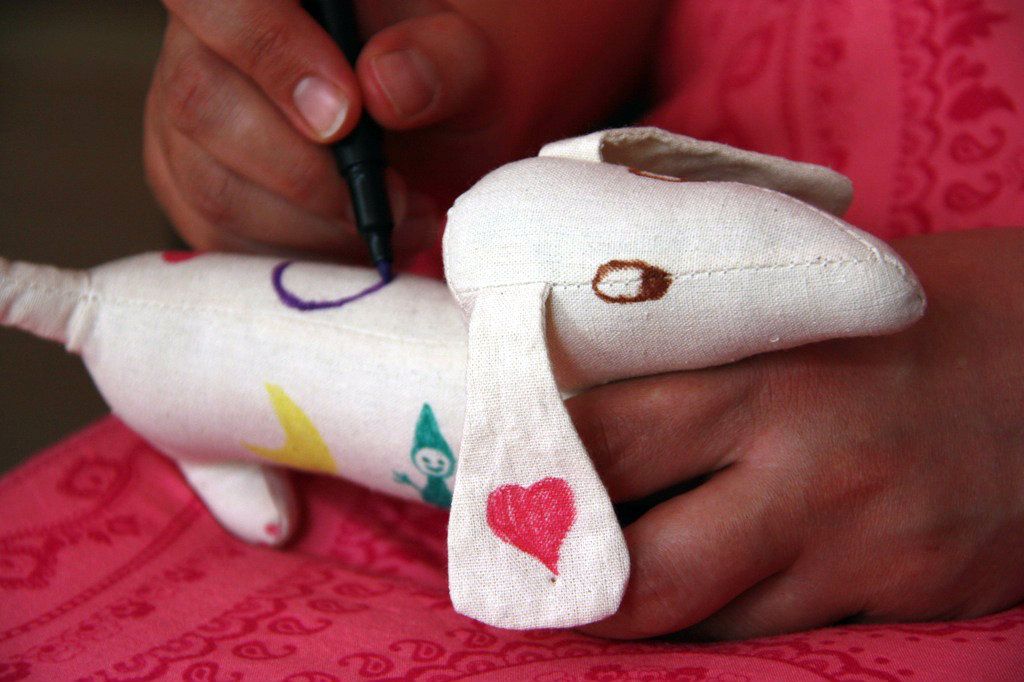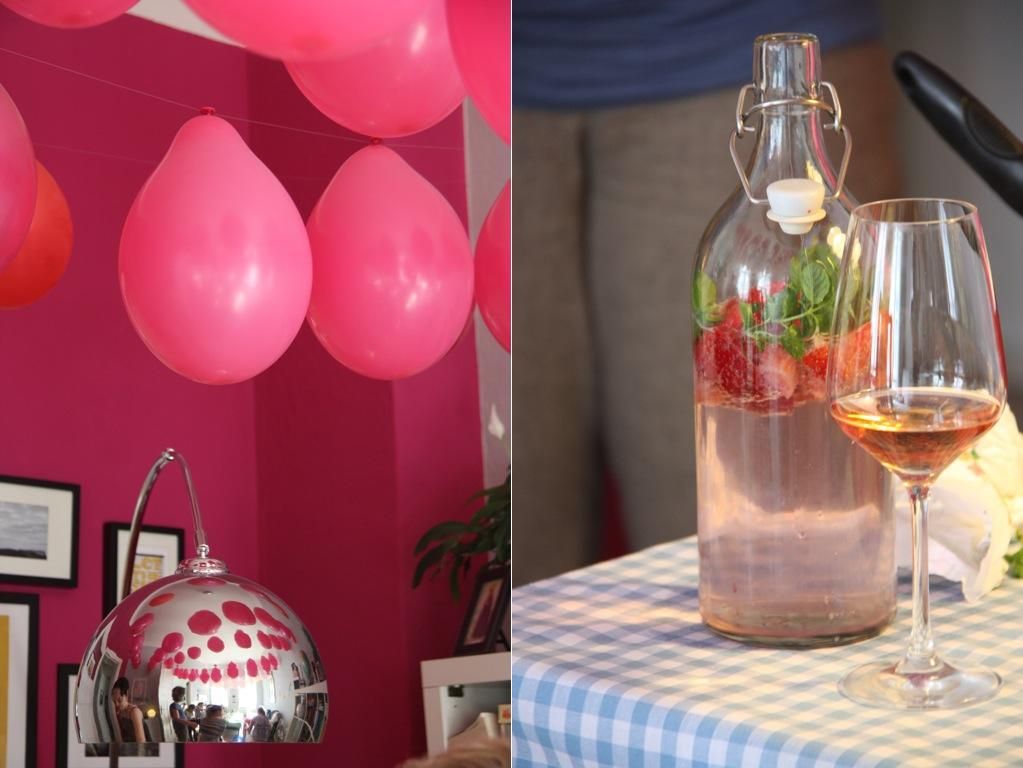 Why yes, I do like to coordinate party decor to our walls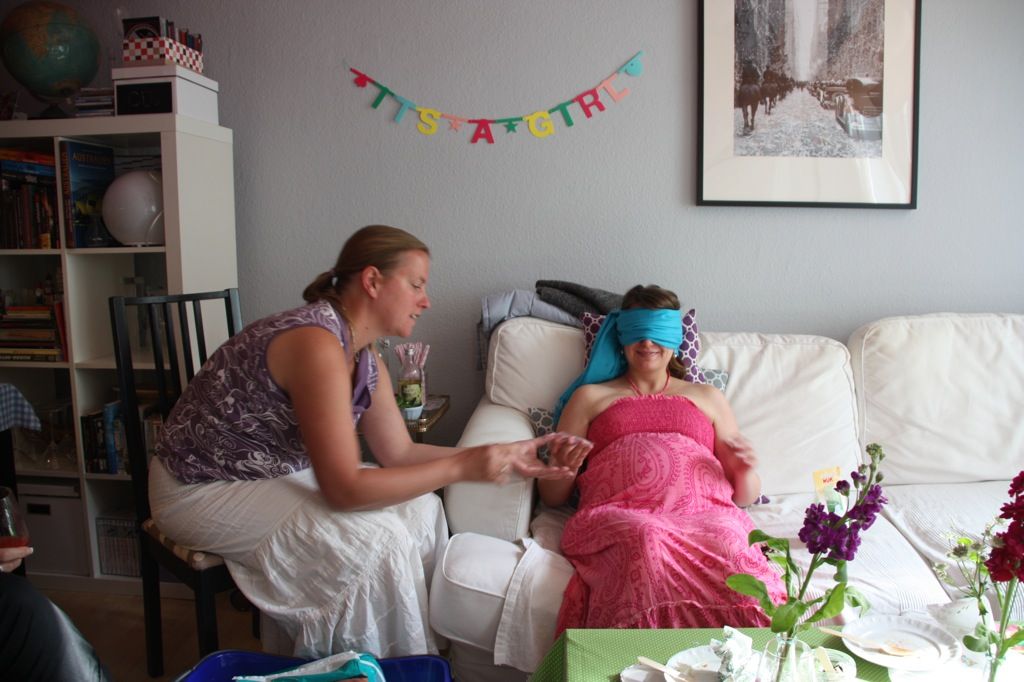 How cute is her bump?!
To wrap up the three-day weekend, Monday was spent recovering with a nice long run, a visit to a beer garden, and some margaritas on the balcony (while Micha cathartically popped each and every last balloon, much to my dismay).