I'd said quite
a while ago
that I would at long last put all the remaining frames we had lying around to good use (and some of the new ones I bought, too -
I know, I have a problem!
) and I'm proud to say that, finally, many months after planning that, it's done! And fabulous.
I went about extending the frame wall differently this time in that, for the first time, I actually planned it. Up until now, I've just arranged the frames
once on the floor,
then pretty much starting hanging and making it up as I go. In case you haven't noticed, I'm not much of a planner... (Surprisingly, Micha is very un-German when it comes to projects like these and let's me wing it - unplanned - all in the name of just getting it over with as quickly as possible. He knows by now that me + planning = week-long procrastination.)
I used this method I had recently read on
Young House Love
that seemed simple enough and for which I already had all the necessary materials. It definitely took more time than I expected, but worked out quite nicely in the end. Basically, you lay all your frames on big pieces of paper (I just cut some off my roll of craft paper and the width worked out perfectly for our space), trace them onto the paper once you've got the arrangement, measure the distance to where the nail should be from the top of the frame, mark that on the paper, then hang the paper on the wall, hammer in the nails, rip off the paper, and hang the frames. Whew! That was a mouthful.
Young House Love explains it
in detail much better.
You can almost see the frame outlines here...
A lot of steps, yes. But every now and then, a bit of perfectionism really pays off. Especially when you're dealing with this
ridiculous
mess of frames.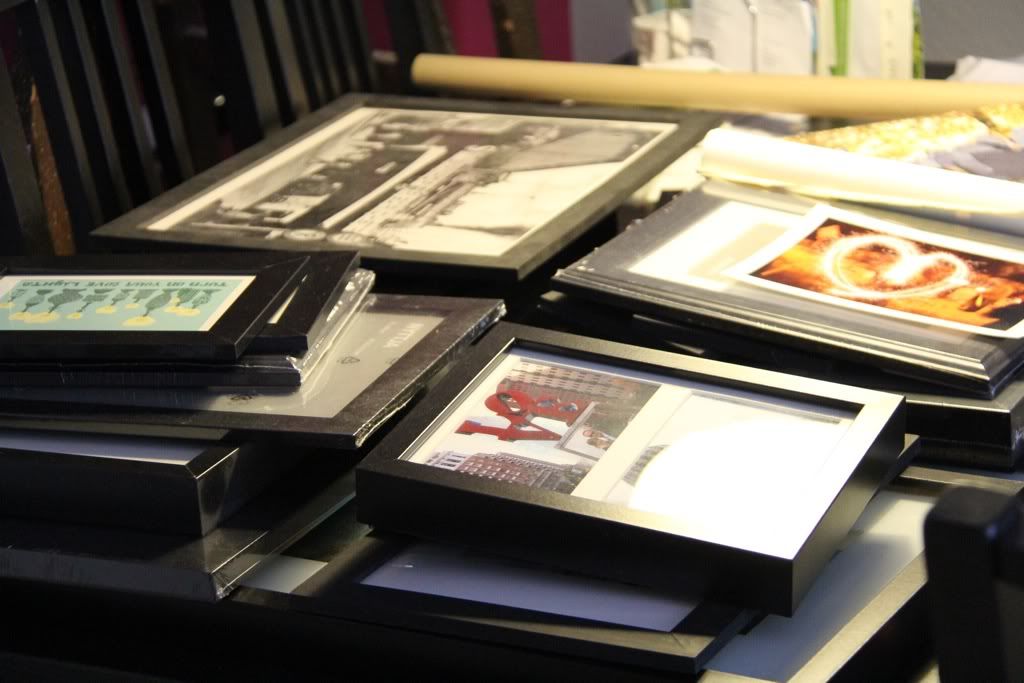 After ripping the paper off, it was smooth sailing hanging the frames (remembering where each one went was not the easiest. It would have been wise to mark them on the paper somehow, now that I think of it...) But we (yes, of course Micha got involved once the ladder was pulled out because he does not trust me - fairly enough - with a hammer and a ladder at the same time) finished it all in one evening and now it's done and I love it!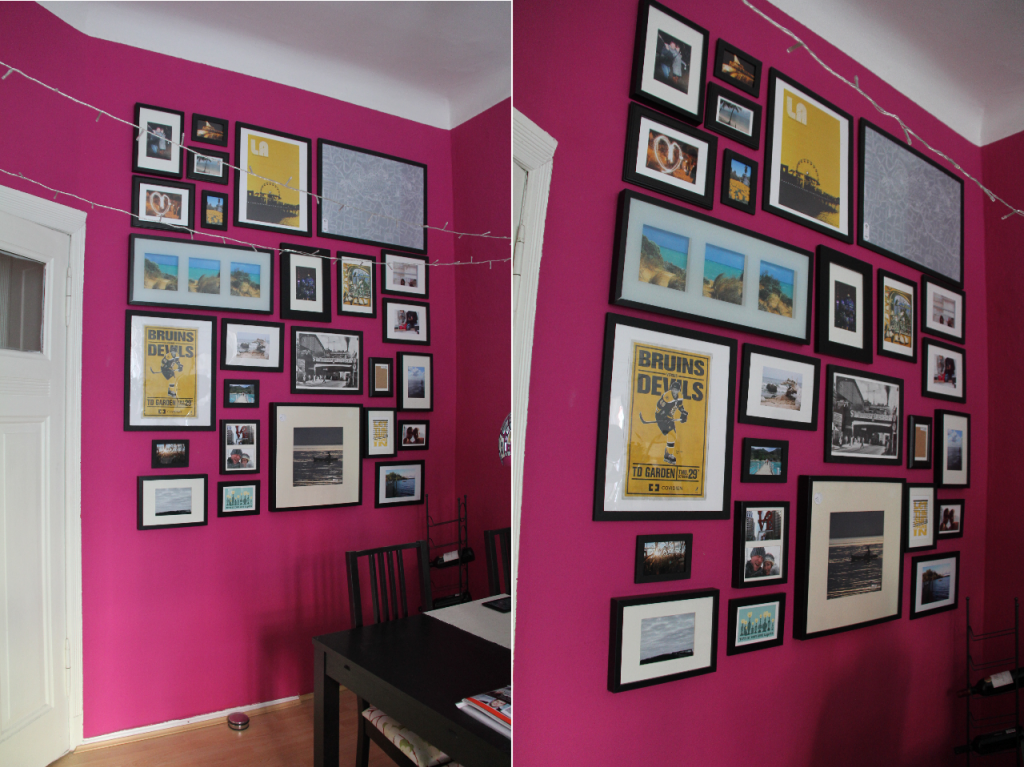 And, more importantly (cuz I obviously knew that I'd love it), Micha loves it! Victory is mine (again :)!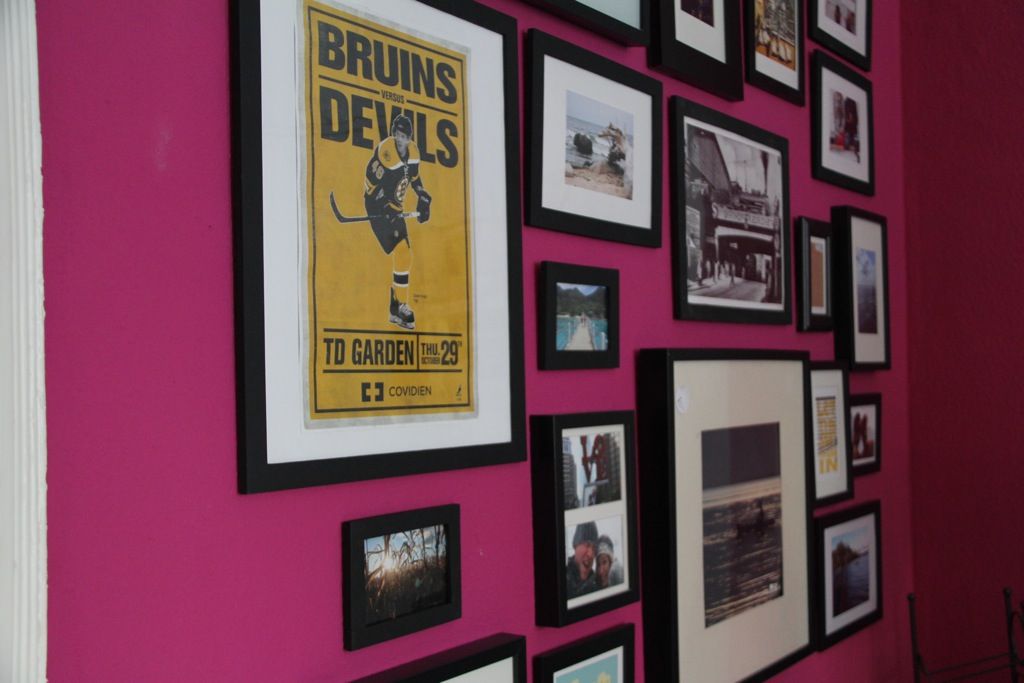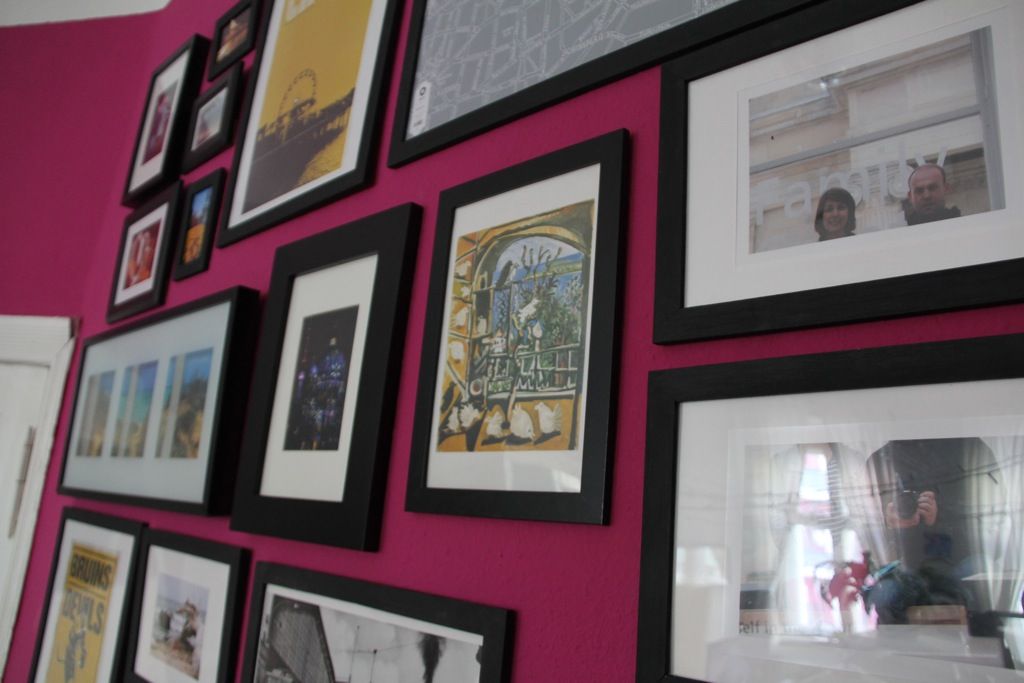 I like that that wall seems so much more balanced now. Since our ceilings our so high, it really didn't make much sense to have the frames stop below the top of the door like
they previously had
(for way too long). (Ohmigosh, looking back on that, I can't believe I ever thought it looked ok! :)