So, I'm finally over the flu (yay!), our visitor has left us (boooo!), and I at long last have a free minute away from my
Half-Year of Improvement
(Spanish class being my newest evening endeavor) to blog again. Yippee!
Liz arrived here - on her way to Rome - on Friday and in a very happy turn of events, brought the sunshine with her (thanks again, lady!). She was only staying for a short four days, so we had precious little time to pack in lots of fun and shenanigans.
The theme of the weekend turned out to be sunshine and microbreweries, though of the second we have few pictures. On Friday, we headed first to an Eisbären game - she also brought hockey luck to them! which promptly disappeared once she left... - then to Hops & Barley in Friedrichshain for some beers with friends.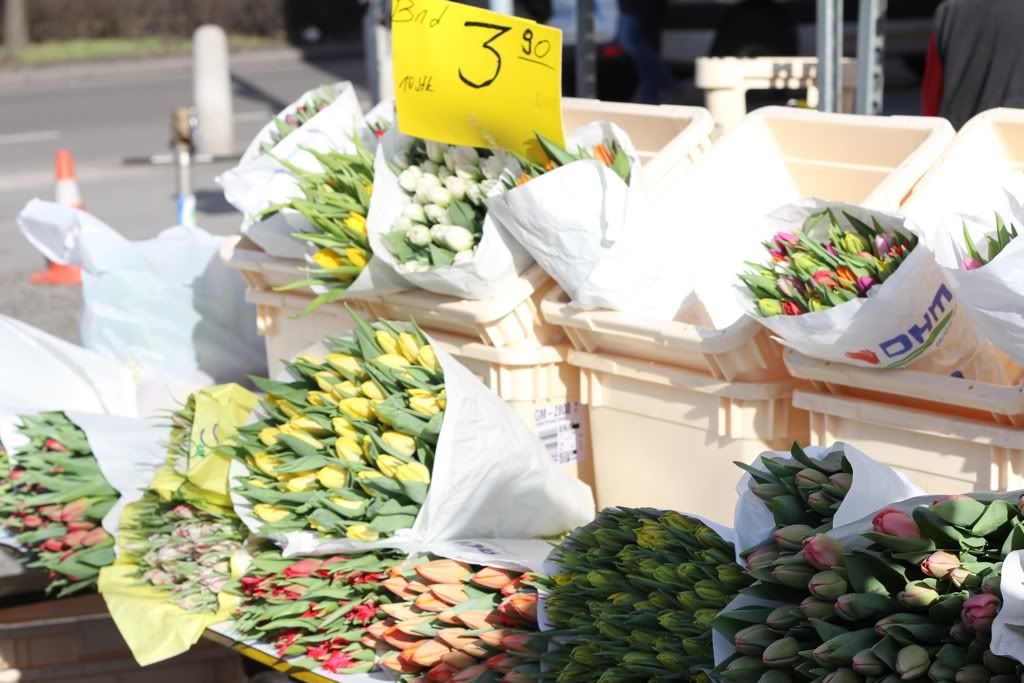 After a leisurely breakfast on Saturday morning, we headed to our neighborhood weekly market for some of their gorgeous flowers (tulips and ranunculus,
but of
course
) and then to the bigger farmer's market at Kollwitzplatz to bask in the newly arrived sunshine (seriously, it hadn't come out in months before this).
Who doesn't have Lust auf Käse (desire for cheese) at all times?
|
A wannabe Gulaschkanone
Later that day, we'd invited some folks over for the very first beer tasting of
Micha's home-brewed beer
, an American-style I.P.A. I may be biased, but it was damn fantastic! And not just for a first beer, for any! I'm a big fan of this new hobby of his...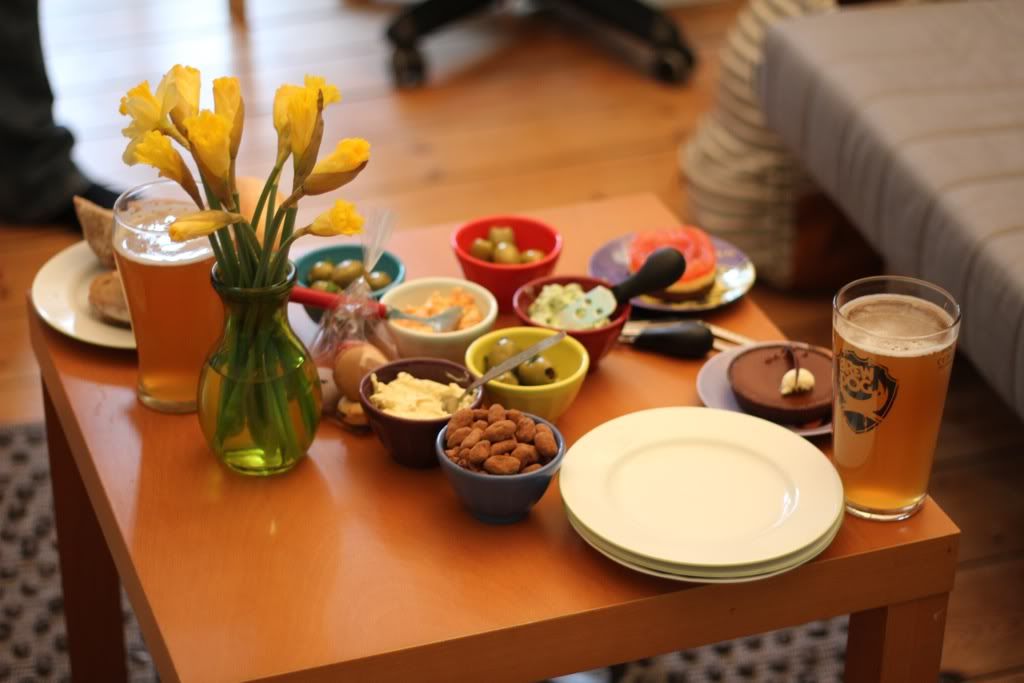 Market treats and homemade beer, yummmmm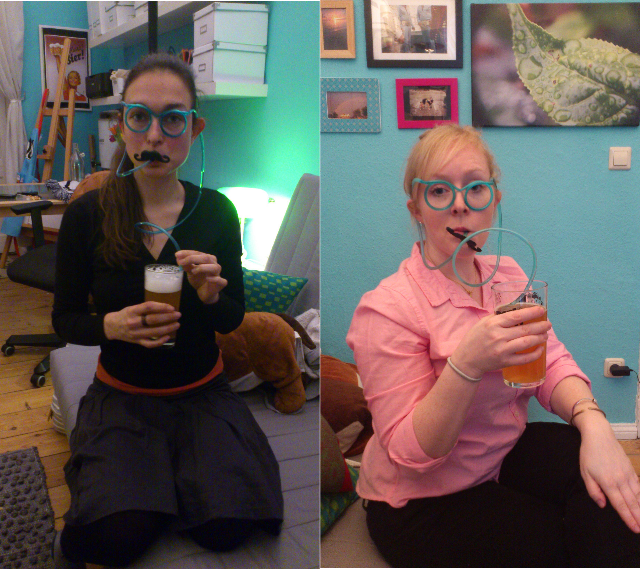 No beer tasting would be complete without a set of absolutely ridiculous, mustachioed beer googles
For some reason, pretending to give babies beer
never gets old
...
Liz and Hanna bonded over the wee one's love of spoons
|
Liz and I channeled our inner 11-year-olds with Tattly BFF tattoos
We also made our way later that night to our second microbrewery of the weekend in Wedding and yet still managed to make our 11am brunch reservations the next day at
Cafe Schönbrunn
. Food is clearly our priority.
Hanna subtitle 1: "Life is so hard! Who are you and what am I doing here?!?"
Hanna subtitle 2 (one minute later): "Oh, hey dad. What's up? Life is good. Elmo is awesome."
We ladies went on a sun-riddled stroll over to Mauerpark - with an obligatory prosecco stop, of course - while the menfolk either cheered on the Eisbären again or took care of baby to let momma off the hook for an afternoon (good man!).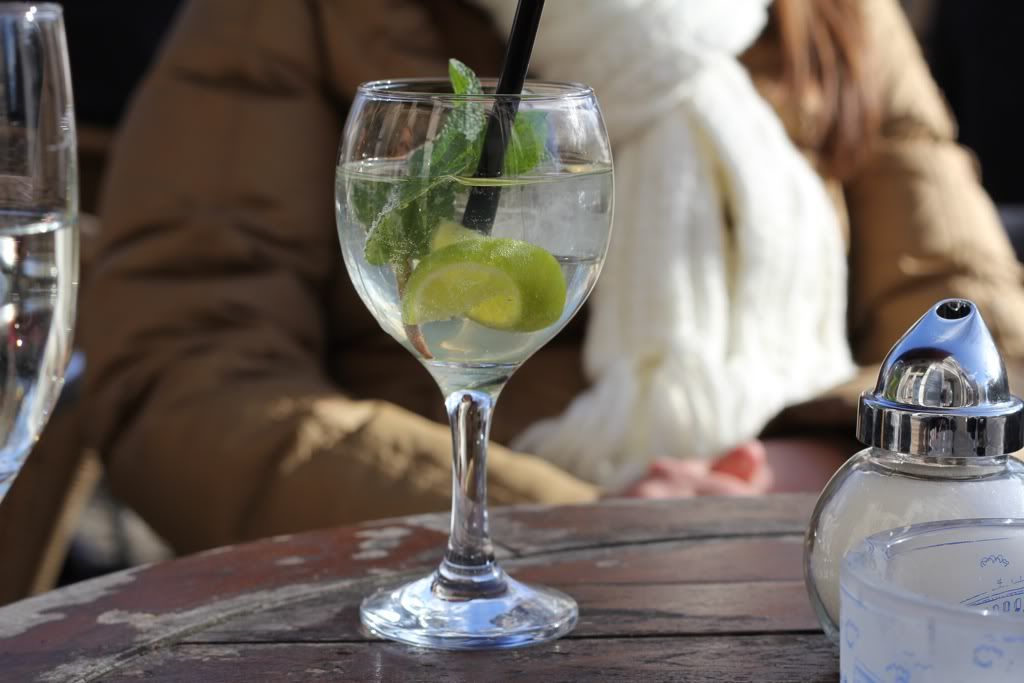 That night, we brought Liz to her third and final microbrewery of the trip, where we also met up with an old university friend of Micha's, Glen, who Liz met when she first visited me here 5 years ago and whom her friend called Conan for the entire night. Apparently, he looked like Conan O'Brien to her (he really kind of does) and one year later, when Liz was back, we randomly saw him on the street and he actually answered to her shout of "Conan! Hi!" So now, to him she's the random American who very frequently just shows up in Berlin and calls him Conan and to me, he's the guy that's not actually named Conan but then what actually is his real name...
I merrily took Monday off to play one extra day with Liz, which we kicked off by heading to the least exciting place on earth, the Ausländerbehörde (Foreigner's Office) to renew my visa. While it didn't go as hoped - I didn't get the permanent one, just a two-year extension, darnit! - it did end up resulting in Hanna finding her new, most favorite and delicious toy: my expired passport. Which is now covered in baby drool and I don't even mind a bit.
Our very first Hanna-and-her-favorite-auntie self portrait | A comfy lap and a yummy toy equals a happy baby
We wrapped things up with tea and oh-so-decadent cake at the adorable
Princess Cheesecake
in Mitte (the name was obviously very fitting for us), then whipped up some red-wine-and-leek risotto (it's good to have a foodie friend) for dinner and just like that, the weekend had to end.
I'm really lucky that Liz visits so much, I have to say. Once you live in a place long enough, you stop getting frequent visitors as the newness wears off, but she makes it out here about once a year on average and I really really really really really am so thankful that she does. As
Harriet the Spy
once said, "good friends are one of life's blessings. Don't give them up without a fight."