(not ours :)
We headed to the teeny town of Osthofen (semi-near Frankfurt) last Thursday to attend the small, somewhat secret wedding of Micha's best friend, Nico and his awesome ladyfriend of 14 years, Claudi. (Secret's out now!)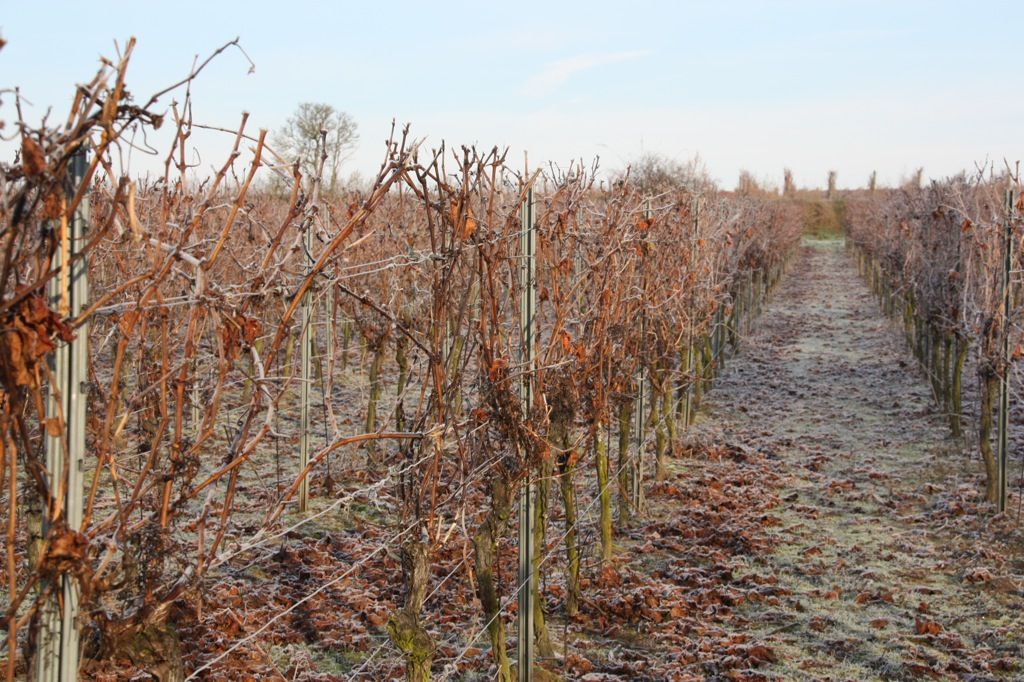 The primary appeal of this wedding - not that weddings need one for me, I love other peoples' weddings, provided I never have to go to six in one year again - was that it took place in the wine region of Germany and the program included a wine tasting directly following the ceremony. Why didn't anyone thing of this genius idea sooner?!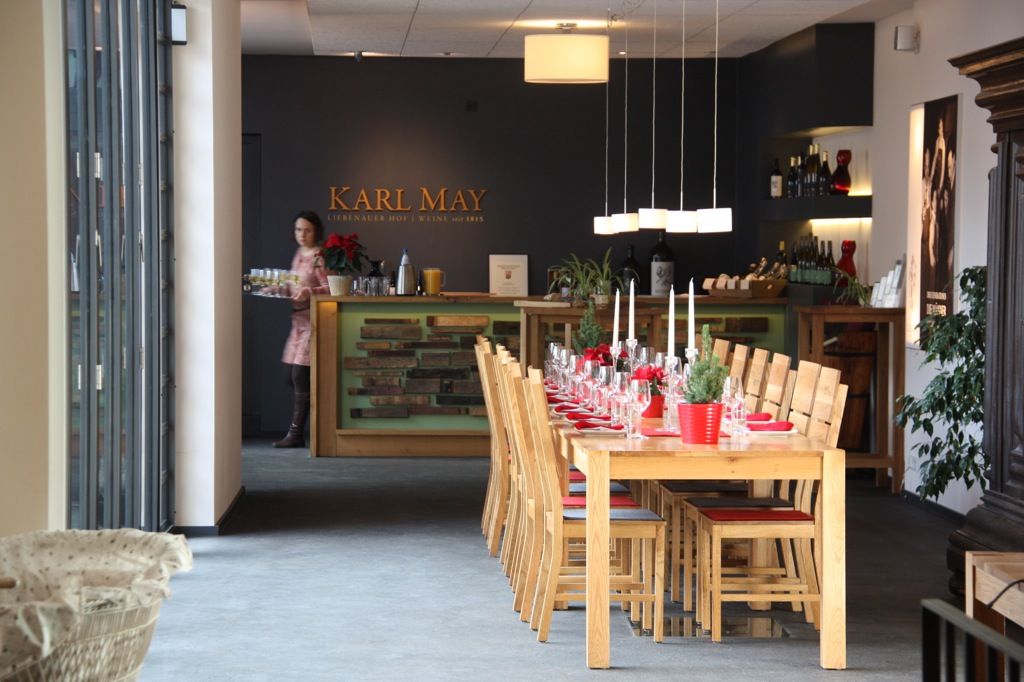 Micha was sad to see that, although the winery was called Karl May, they did not have a wine named Winnetou (don't worry if you don't get that reference; pretty sure only Germans will).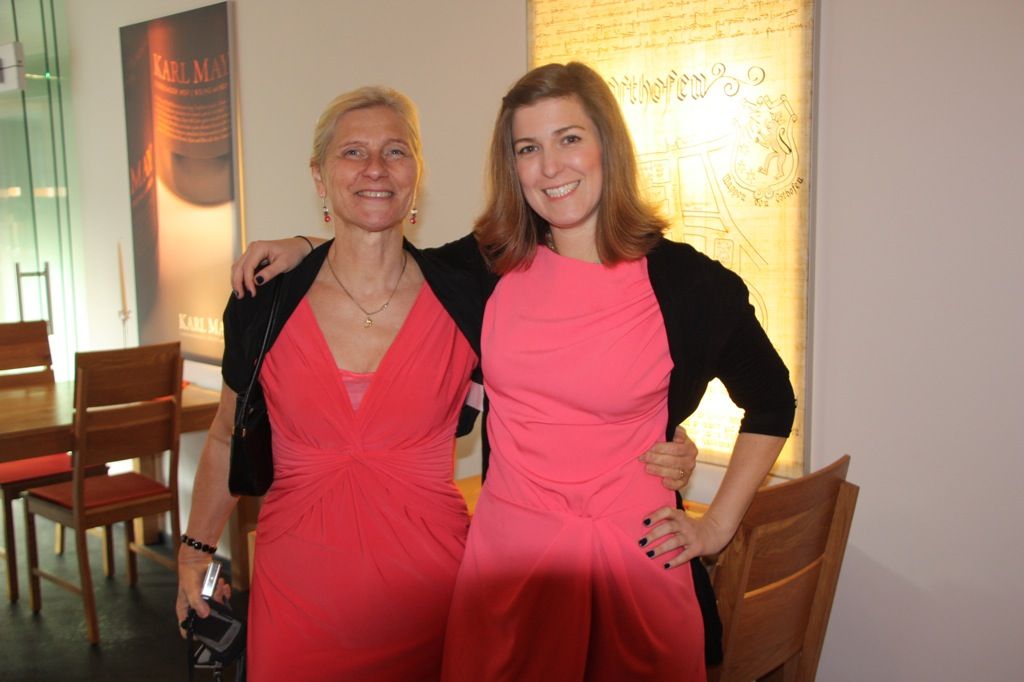 I like to match the mother of the groom (and when the mother of the groom is a former Olympic swimming medalist, I cannot complain).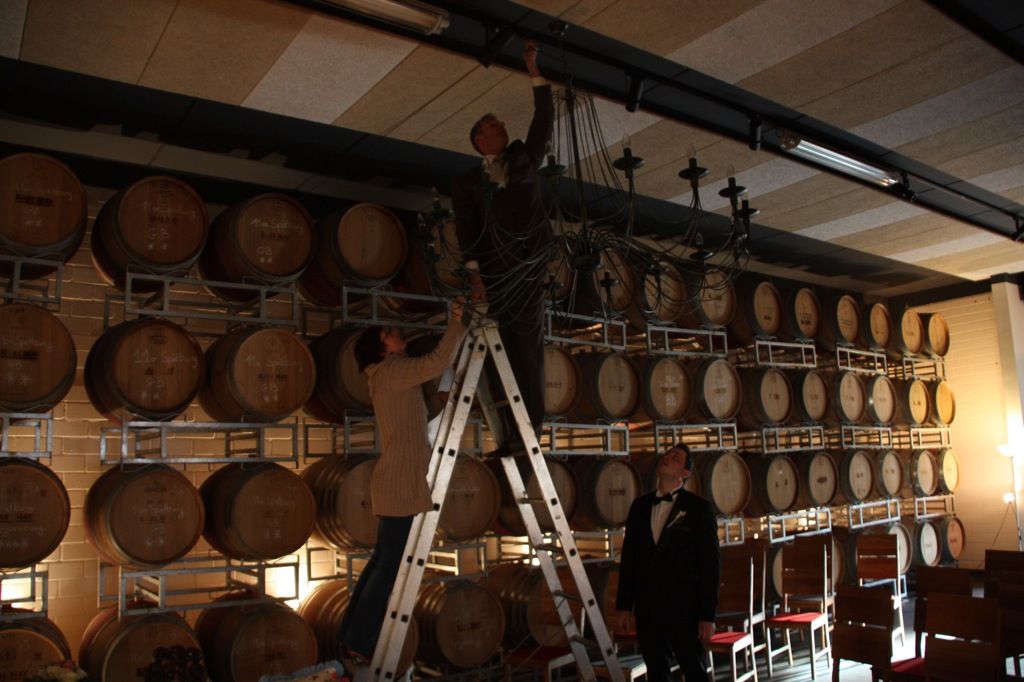 The groom's electrician brother-in-law, helped make sure the ceremony would not take place in complete darkness.
The ceremony was short and sweet, just the way I like 'em, and included a whole lot of giggling, primarily from Nico and Claudi themselves (because they're awesome like that). It took about five minutes for them to finally complete their first kiss because Claudi kept breaking out in laughter!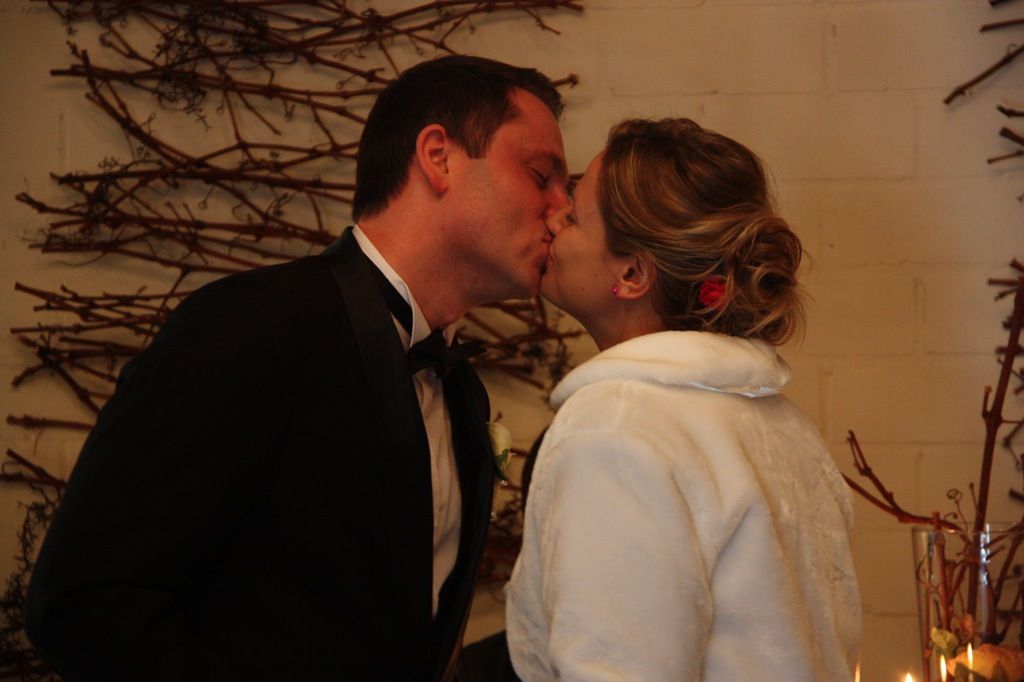 Classy first kiss
Sweetest picture of the day (Nico and dad)
I loved that Claudi rocked pink shoes | Wee half-Swedish Teo (the bride's best friend's baby) was resistant to the elements
After plenty of picture taking (made extremely convenient by the fact that Claudi's best friend, Doro, is a photographer), it was on to the wine tasting. Of EIGHT wines, to be exact. Eight.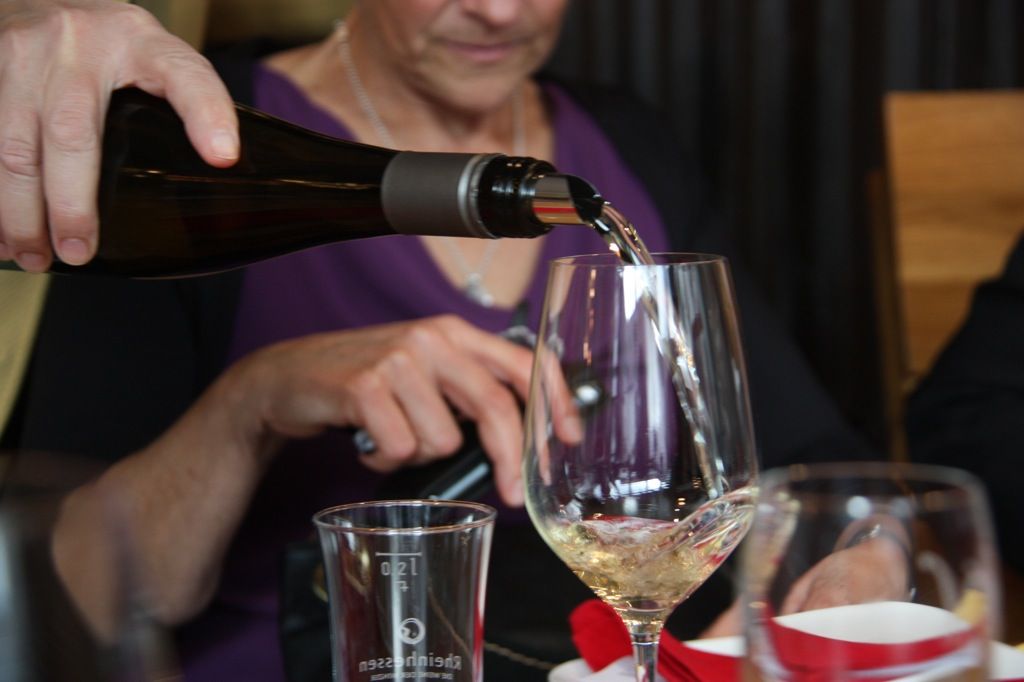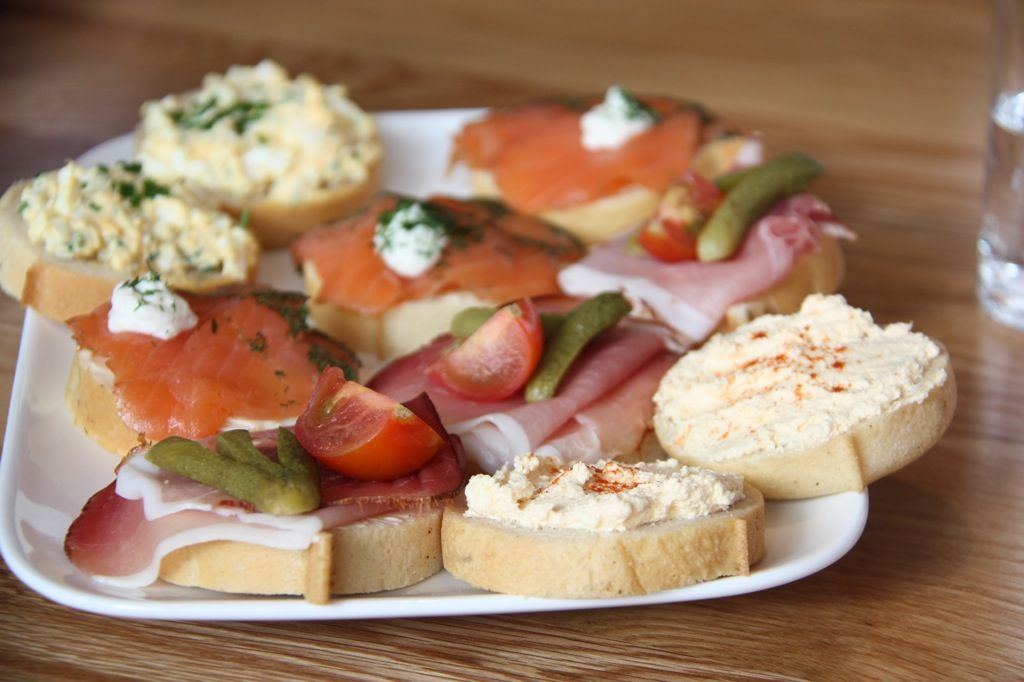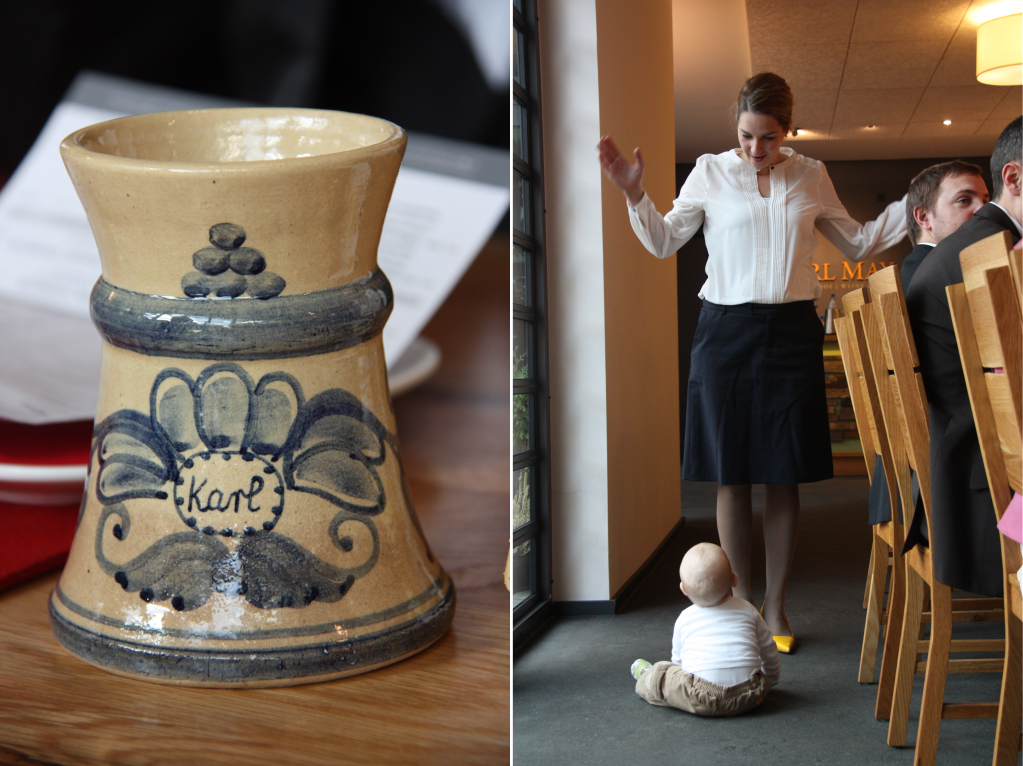 Nico's precious (and adorably sassy) niece, Kimmy, smelled all the wines with them
You can probably imagine our state when we left the tasting however many hours later (I have zero idea how long we were actually there but I do know that my nap right afterwards was a lovely hour and a half :). Most hilarious moment of the walk to the hotel? When Doro and her husband, Eric, jumped in one of the cars and casually left baby with the rest of us to meander home with! Thankfully, Kimmy was all over playing stroller-pusher (little girls are so cute).
Dinner that night was at the hotel restaurant (that boasted a semi-famous and definitely very good chef) and was not only extremely delicious, but also ridiculously adorable thanks to cute little big-eared, blue-eyed Teo (and yes, Liz, he has the same name as your cat!)
I may have had three of those creme brulées over the course of two days...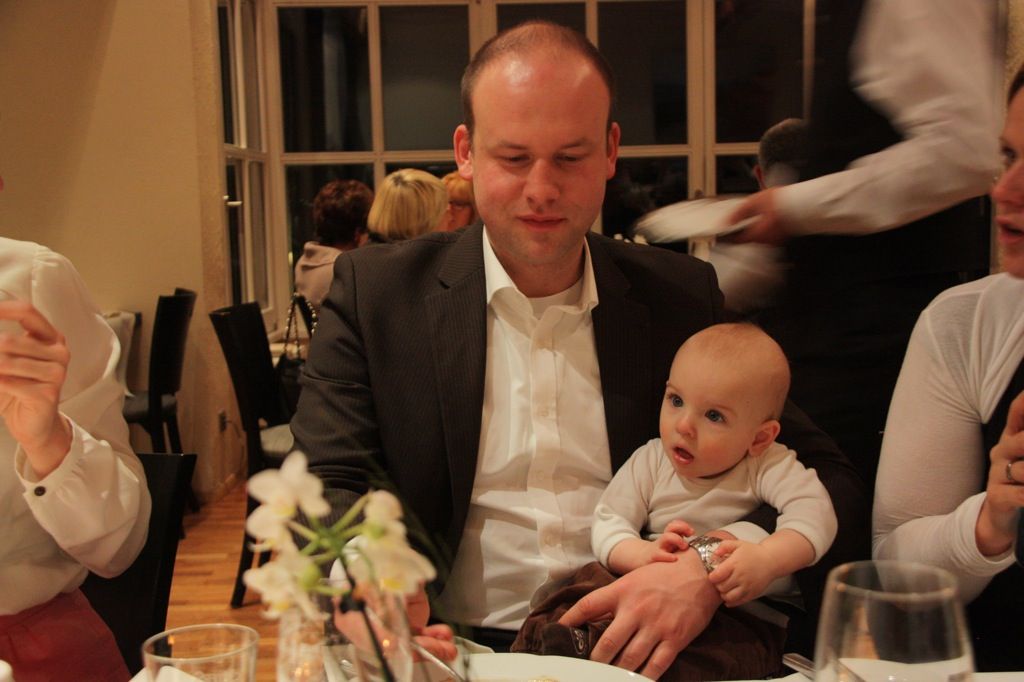 One of Micha's happy places includes holding a wee baby in one arm and a beer in the other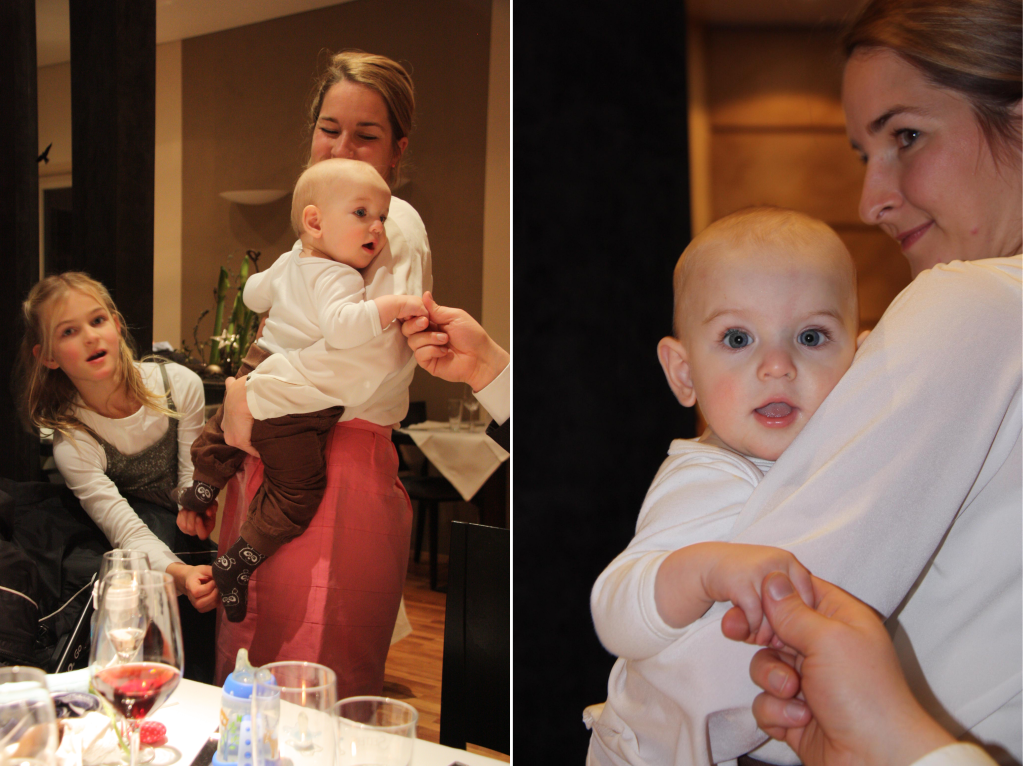 When little guy got a bit grumpy, it was Kimmy to the rescue with a wondrous foot massage!
We woke up to a bit of snow and a lot of frost on Sunday and our whole troop - which included Nico and Claudi, their parents, each of their sisters plus partner and Kimmy, and then a best friend with partner (and one baby) on each side as well - headed to Worms for a city tour. Can we just stop right there and reflect on the fact that there is a town in Germany called
Worms
? This delighted me to no end pretty much the entire weekend.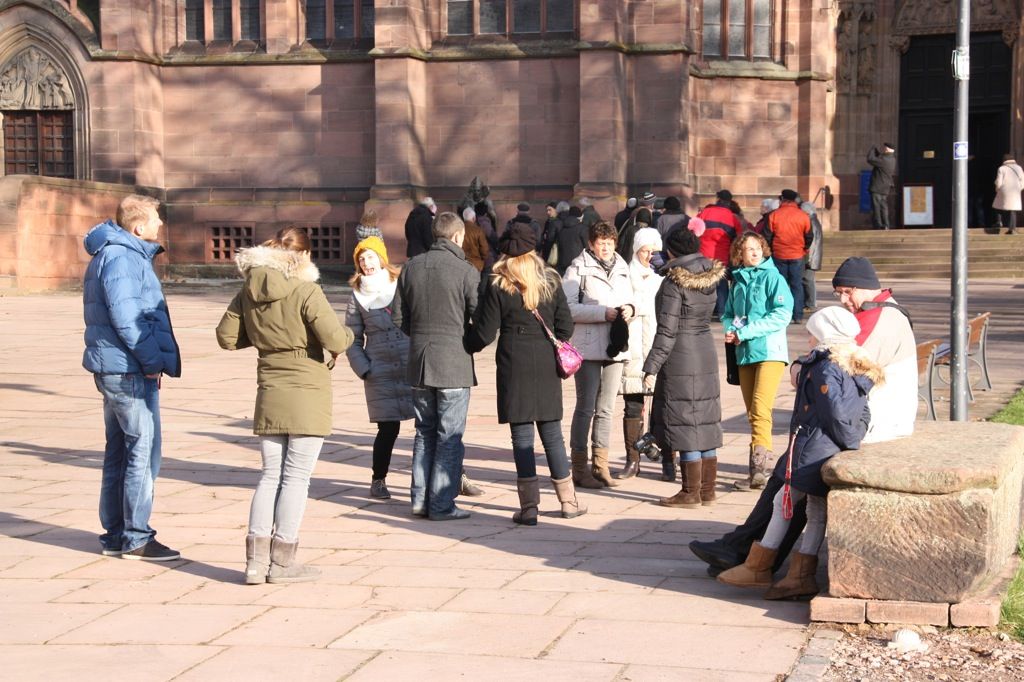 It'd be very easy to play Where's Waldo with pictures of me...
My favorite part of the cathedral - and the whole tour - was the wiener dog statue hanging out near the entrance with all the gargoyles. The story goes, that he belonged to the architect that led the rebuilding of the cathedral and was always on site and always a good little guy until one day, when he started acting a little nuts and then went to bite his master's leg. The architect jumped back as the dog lunged at him and right at that moment, a huge piece of stone fell from the top right on to where he had just been standing, just barely missing both of them. For saving his life, the architect put this adorable memento of his trusty companion on the cathedral.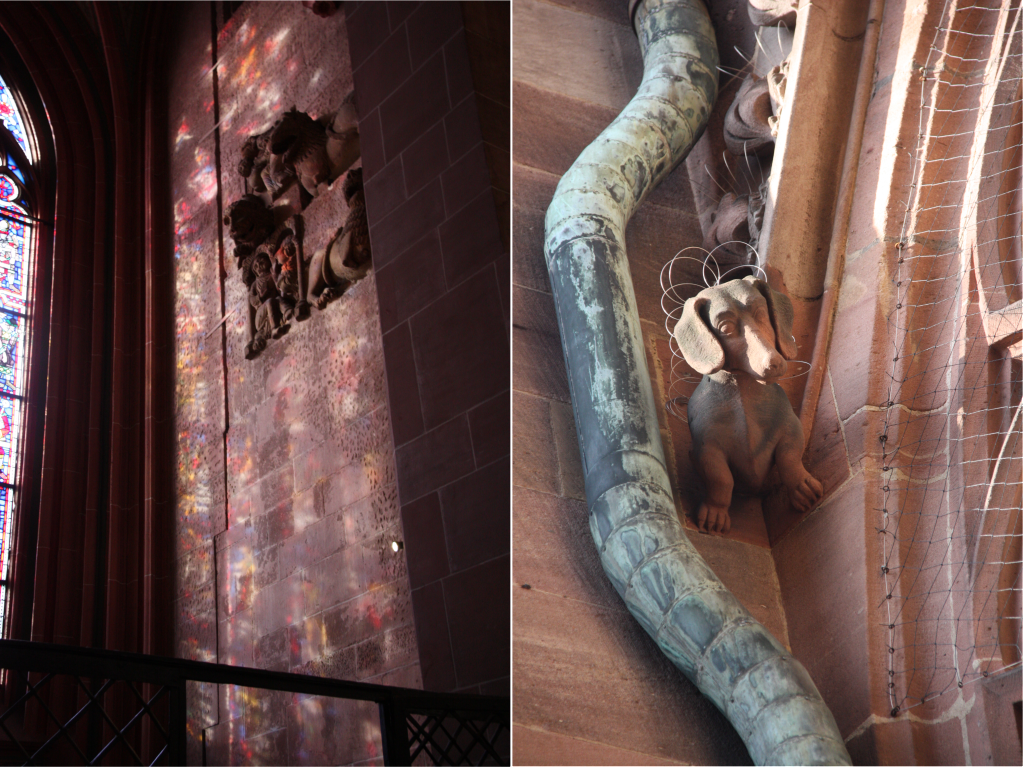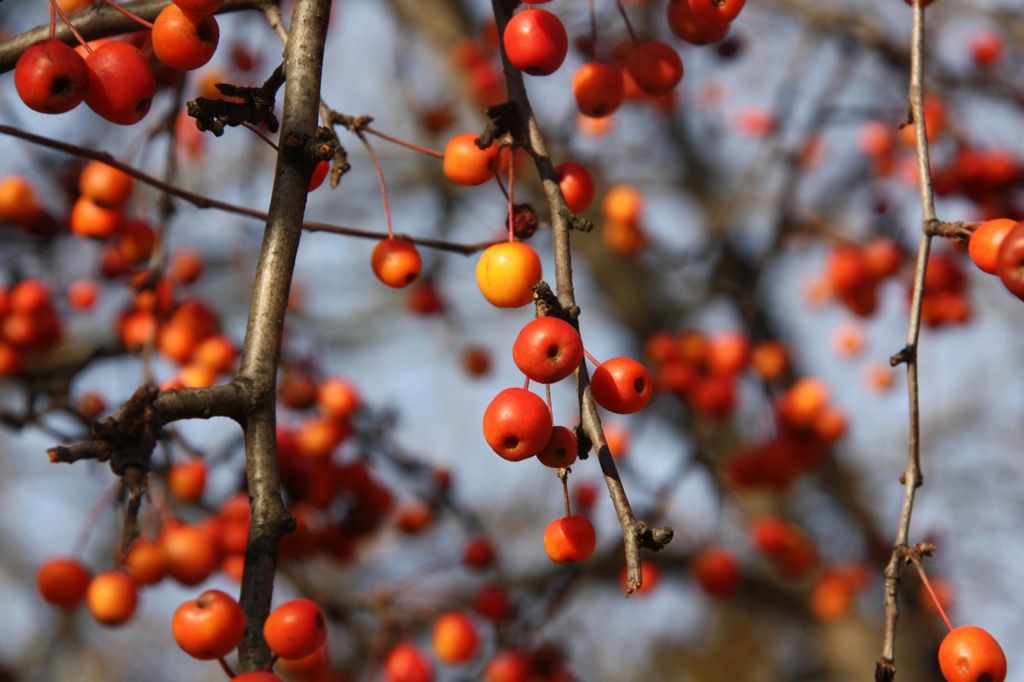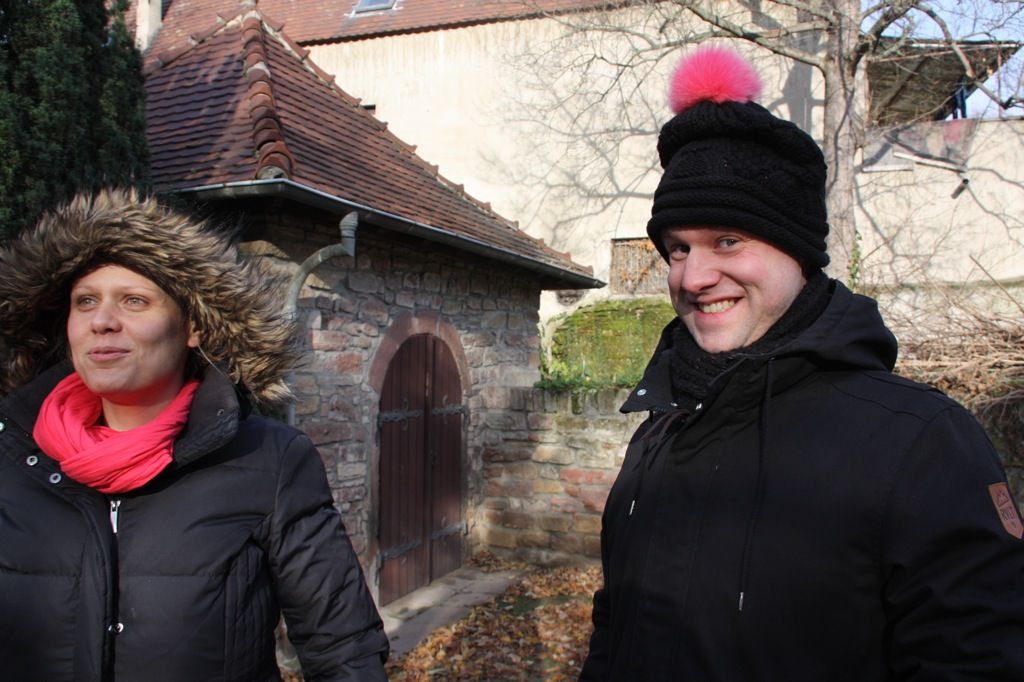 The oldest Jewish cemetery in Europe (where men are supposed to wear hats). Apparently, Prague says they have the oldest, but Worms (hehehe) says that is a big fat lie.
After the tour, the bride and groom headed home, where they then spend the rest of the day with massive stomach issues that Germans love to tell way to many details about but which I will spare you here. Suffice it to say, our second wine tasting was canceled. Which certainly didn't hinder Micha and me from trying three different kinds of glühwein at the Worms (hehehe) Christmas markets.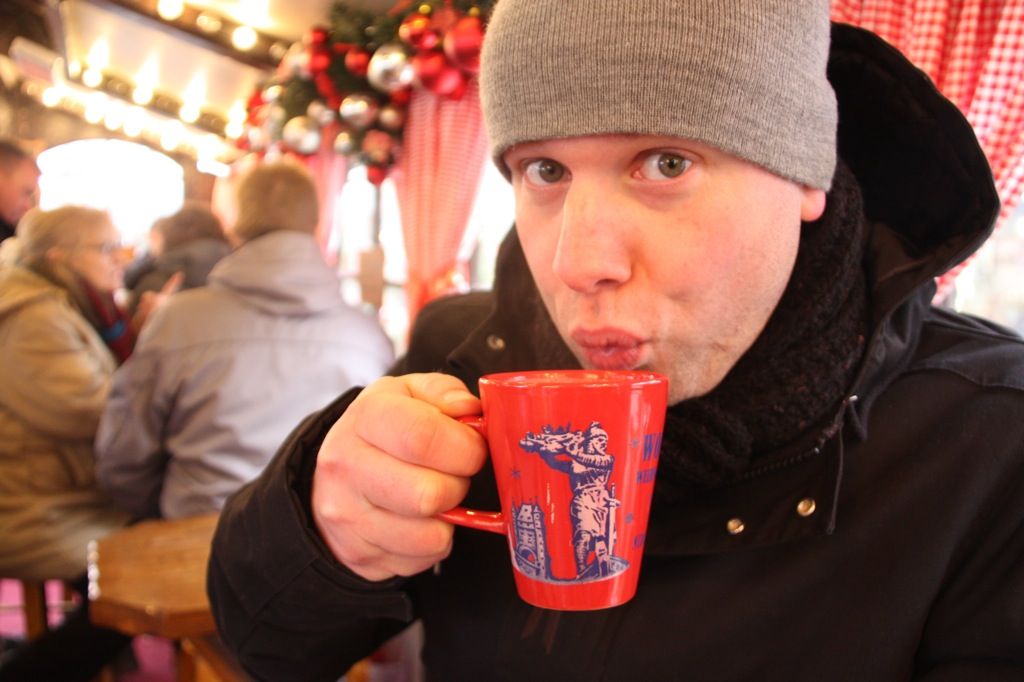 Then we had one of those classic moments where I had to yell-whisper to Micha to "pretend to take a picture of me but actually take a picture of that evil little boy
pointing a pretend gun at the baby Jesus!!!
" (in the manger scene). By the time I had explained to Micha what a manger scene is and that I actually meant
gun
when I said
gun
, boy had moved on, but was still wielding his weapon! If you're ever in Worms (hehehe), don't mess with that kid.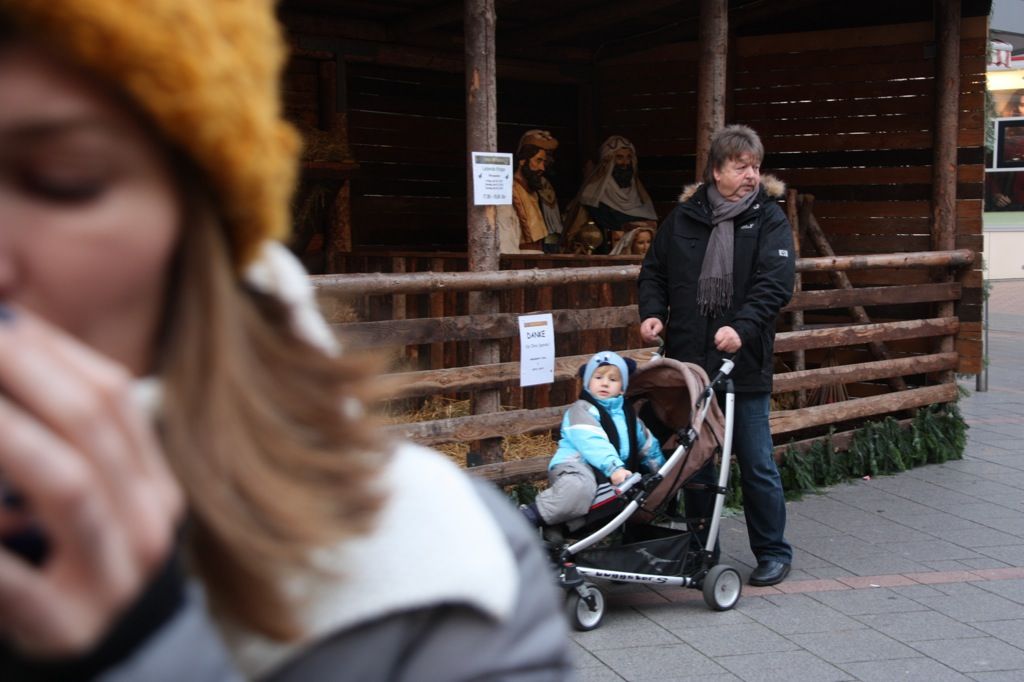 We all went to dinner at an adorable restaurant with a Christmas market on the second floor without Nico and Claudi that night (poor things) and those of us who did not lose our lunch were rewarded with a lovely sunset over the vineyard followed by some moon and stars viewing with Claudi's dad's massive telescope. That he keeps in the car, just in case.
(One day I'll get back to a more regular bloggy schedule, really!)