To finish up my roundup of favorite moments in 2012 (
started yesterday
), here are the final 11. Man, it was a mighty good year...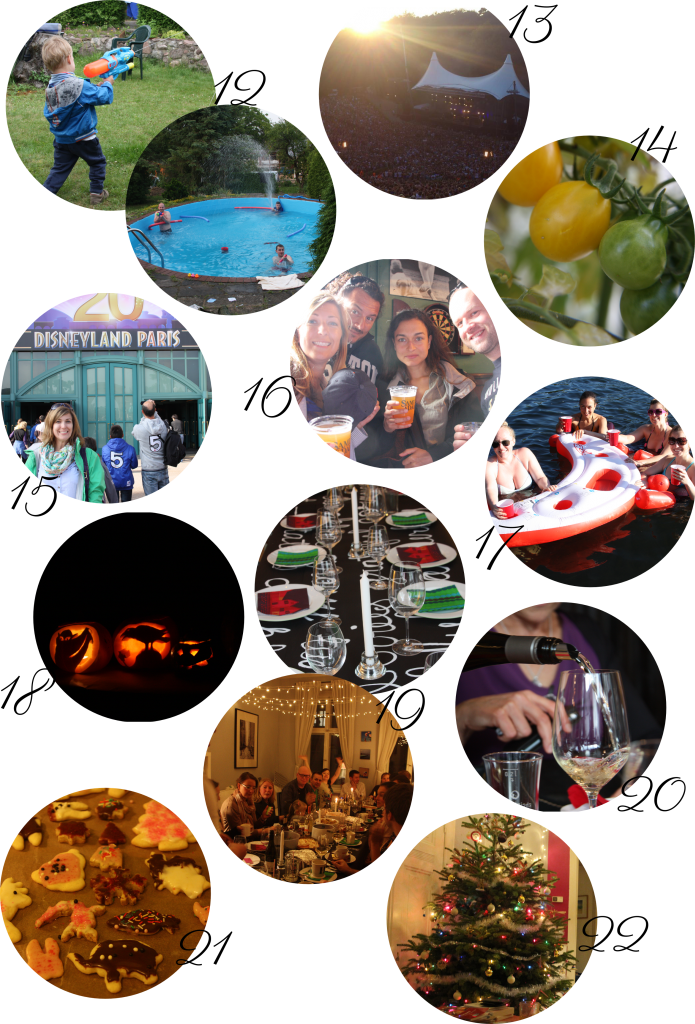 12. Watching Jan join in on the water gun fight between the wee ones - Aron and Mia - and trying not to crack up when little Aron went flying dramatically through the air, slow-mo movie style, when Jan shot him in the back with a water gun (only his pride was hurt) at one of
Matze & Anja's fabulous summer pool parties
.
13. Getting to experience just how good
Die Ärzte really are in concert
on a rare painfully/awesomely hot summer day at the
Waldbühne
.
14. Realizing we beat last year's tomato harvesting record and ended up with a whopping 387 delicious morsels from our
balcony garden
this year.
15. Squealing like a happy schoolkid as we walked into
Disneyland Paris for the first time
(best birthday present ever!).
16. Explaining the rules of baseball with sister to our two Germans and one Italian at a Red Sox game in Boston in the midst of
a weekend of fun
in our old college town.
17. Sitting down with the girls for the first time in
our inflatable bar on the lake in New Hampshire
and realizing that I could very happily stay right there forever...
18. Spreading my love of Halloween to little Aron/Keule while carving pumpkins with him during our
Fall Day of Fun
.
19.
Sitting down to our Thanksgiving table
once again, surrounded by great friends, amazing food, and my favorite decorating scheme of all time (to pat myself on the back a little there...).
20. Merrily imbibing
eight
glasses of wine during
a post-wedding wine tasting
and realizing that all weddings could benefit from an insanely long wine tasting after the ceremony.
21. Watching the boys haphazardly decorate the bajillion cookies we'd baked - which amounted to them dunking them in icing and getting sprinkles all over the floor - after their first attempt at beer brewing on a
chilly, gluttonous weekend
.
22. And while the one thing that was missing from my year was a visit with the fam in LA, videochatting with with sister and mother, accompanied by multiple cats on screen,
on Christmas Eve in reindeer antlers
gave me a good fix to get me through the holidays.
All right, 2013. I think I'm finally ready for you...